The Dr.-Ing. Folz Gleitlagertechnik GmbH welcomes you to its homepage!
For more than 30 years, our family company has been developing, producing and selling throughout the world wear-resistant and maintenance-free/low-maintenance plain and spherical plain bearings for swivel movements based on various metallic groups of materials.
Our plain bearing customers include well-known companies from the iron and steel industry, building and cement industry, mining, shipbuilding, from the general machine construction and the automobile trade.
We provide services regarding state-of-the-art hardening, surface and heat treatment, also in vacuum and pulse-plasma technology, always focusing on quality and customer satisfaction.
Please select a field of business or read up on general information about our Company.
Dr.-Ing. Folz Gleitlagertechnik GmbH
Brief history of development
In 1989, the engineering office "Dr.-Ing. Folz Gleittribologie GdbR" developed into "Dr.-Ing. Folz Gleitlagertechnik GmbH" in the Centre of Entrepreneurs in Püttlingen. In the mid-1990s, larger premises have been acquired where a production hall and a new office building were set up in the industrial area "Etzenhofen", in Püttlingen-Köllerbach.
After several expansions, the Company comprises in 2017 five production halls and warehouses with a production area of about 2000 sqm as well as two office blocks. A robot-interfaced production with its own hardening and heat treating plants ensure products manufactured with high vertical integration and at optimal cost "from one single source".
With the purchase of a new plot of land for further growth plans in 2020 and the handover of management to the next "family generation" in 2022, the company is set for the future.
Family company with values
The Dr.-Ing. Folz Gleitlagertechnik GmbH is a traditional family company and a long-time member of Familienunternehmer e.V.
We see ourselves as a responsible part of society and try to support and to strengthen our region and environment.
Social commitment
Based on our direct commitment in the region as well as worldwide participations, sponsorships or donations throughout the world, we are convinced that we contribute to the social co-existence:
PLAN sponsorship in Africa and South America
Africa project Dr. Schales (www.afrikaprojekt-schales.de)
Support of the Vietnam aid "Hearts for poor children in Vietnam"
Childhood cancer prevention
Kinderhilfe e.V. Saar (www.afrikaprojekt-schales.de)

Donation to the local fire brigade
Support of the local schools
Commitment to regional sports clubs
... in harmony with economy and ecology
Our plain bearings distinguish themselves as a sustainable, ecological alternative to many existing "standard" plain bearings. In addition to cost savings, the environmental pollution is reduced and the safety of employees in the manufacturing is increased as well - the innovative products of Dr.-Ing. Folz Gleitlagertechnik GmbH offer many advantages.
Our company was therefore granted the innovation award "Nachhaltig Wirtschaften" (sustainable managing) of the Wirtschaftsclub Saar-Pfalz-Moselle e.V. (www.saarbruecker-zeitung.de/saarland/saarland/beruehrung-ohne-abrieb-verluste_aid-1090166)
In the early 1990s, the environmentally friendly pulse-plasma nitriding process of metallic workpieces was introduced by our Company in Southwest Germany. Based on our facilities comprising four pulse-plasma nitrating and nitrocarburizing plants meanwhile, as well as further state-of-the-art case and through hardening methods, such as vacuum and induction hardening we are an important service provider and technology consultant, also beyond the region.
"Green technologies" represent an important part of our work in all fields of activity.
Contact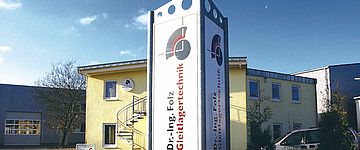 Do you have any questions? Contact us!